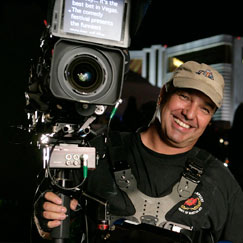 Equipment Package
2 Steadicam Pro rigs, 2 Preston MD-2 follow-focus systems with 5 motors, TB-6 and a Transvideo high-def back-up monitor, Preston micro-servo hardwire backup remote follow-focus system, two M-1 Motors, low mode bracketry, Canatrans, Modulous, Coherent and a high-power radio-frequency image transmitter. Backup Steadicam/handheld coherent image transmitter. Optional vehicle mounting rig, Sony video clamshell monitor TV/tuner, and backup on board LCD TV monitor available. Duel Kenyon gyro-fat 4 camera stabilizers also available. Heads-up display goggles, four Motorola radios, Image RF tuner/receiver, body support, minor rigging and general safety gear included.
Specialized Skills
Camera car vehicle chases, high-speed quad, dunebuggy, river raft, snowmobile stunt sequences, stairs and high-altitude crane step-offs
Camera mount specialist — aircraft, marine, vehicle and amusement park rides (rollercoasters)
A-B Camera Operator — handheld, Powerpod, studio mode, underwater and aerial cinematography
Member of the Society of Camera Operators (SOC) — an organization dedicated to the advancement of the art and creative contributions of the Camera Operator in the Motion Picture and Television Industries
Certified scuba diver, Los Angeles County — Member of NAUI and PADI (Professional Association of Diving Instructors)
Commercial/stock still photographer — Member of International Photographers Guild, Local 600
Vested journeyman key grip in good standing — Member of IATSE Local 80
Co-owner of The Slider, LLC. — Co-designer of the Slider camera-movement system
Professional References
Directors of Photography — The late Mr. Jordan Cronenweth ASC, the late Mr. John Alonzo ASC, the late Mr. Robert Hauser ASC, the late Mr. Joe Biroc ASC, Rexford Metz ASC, Jack Cartiff BSC, Brian Tufano BSC, Richard Bowen ASC, Russ Alsobrook ASC, Rodney Charters ASC, Bill Bennett ASC, James Chressanthis ASC, Glen MacPherson ASC, Blake Evans, Vern Nobles, Jeff Mygatt, Bill Beaird, Mark Dektor, Frank Byers, Rhet Bear, David Darby, Bob Eberlein, Steven Feinstone, Randall Gregg, Richard Henkels, Marc Greenfeld, Mike Trimm, Toby Irwin, Claudio Miranda, Brian Agnew, Tim Ives, Michael Maley, Brian O'Connell, Amir Hamed, Jim Hawkinson, Bill Harrison, Peter Selesnik, Steven Ramsey, Yon Thomas, Danny Ducovny, Peter Gulia, Steve Green, Aaron Schneider, Clyde W. Smith, David Stumpf, Pierre Rouger, Tony Molina, Kevin Emmons, Alan Caso ASC and Jeff Cronenweth ASC, respectively.
Steadicam Production Companies — MacGuffin Films, Cucoloris Films, Dreamworks, Radical Media, Disney Themepark Productions, FM Rocks, Partners-Canada, RSA Films, H.S.I., Dektor Films, One Such Films, Tool of North America, Cente Services, Atlas Pictures, Bedford Falls, Sunspot Production, Westlife, M-Company, Mars Media, Kaos Entertainment, Turner Original Pictures, Harley's House, Schofield Films, The BBC, Disney Studios, The Oil Factory, Harmony Films, Propaganda, Squeak Pictures, Day-O, Copper Media, Geronimo Films, Geraldi-Suarez, Universal and Warner Brothers Studios and Stiefel & Co., respectively.
Steadicam Commercial Products — Direct TV, Ford Mustang, Lincoln Mercury, Welbutrin, Roebok, Chevy Trucks 04, McDonalds, Chili's Restaurants, Toyota Sienna, Chukchansi Gold Casinos, Gateway Computers, Sears, Tommy Hilfiger, Verizon Wireless, Footlocker Shoes, Keebler Cookies, Jell-O Pudding, Pac-Bell, Nestle's Lion Bar, Blue Cross Health, Lipovitan Vitamins, Dodge Trucks, Philadelphia Cream Cheese, Marlboro, L&M Cigarattes, Izusu Trucks, Disneyland, Energizer Batteries, Ford Vans and Trucks, Subaru Outback, Linens and Things, The History Channel, K-Swiss, Starz Entertainment and the Lowes Building Center campaigns 2003-2005.
Steadicam/Handheld/Studio Operating Projects — Rambo IV: Pearl of the Cobra, Notes from the Underbelly, My Name Is Earl, Big Day, The Sarah Silverman Program (A Operator/Steadicam for seasons 1, 2, 3), I Could Never Be Your Woman, Sons and Daughters, The Unit, The Ghost Whisperer, Invasion, 24 (seasons 3, 4, 5, 6), I Spy, Swat, Dumb and Dumber, The One, Small Soldiers, MTV Picture Awards Film (Matrix Reloaded), 102 Dalmations, HBO's Creature Features "How to Make a Monster," The Good Humor Man, Between the Sheets, The Independent, The Amati Girls, Tick-Tock, Beach House, Executive Power, Tracy Takes On (multiple seasons) Purpose, Warner Brothers 75th Anniversary Special, Hitters, Marshalls Undercover, Thursday, Disturbing the Peace, Girl Gets Moe, Shiloh, Hawthorne and Pickett Fences.
Major Aerial, Stunt and Underwater Work — Jaws, Jaws 2, Jaws 3-D, Indiana Jones and the Lost Crusade, Airforce, Baa Baa Black Sheep, The Naked Truth, Grey Lady Down, Airport 79, Sleepwalkers, Bad Girls, Clifford, Buckaroo Banzai, Sierra, Good Morning Vietnam, Anna and the King, Capricorn One and The Serial.
Miscellaneous Credits — 2004 World Motocross Championships, Sarah Silverman Special (Jesus Is Magic), Sarah Silverman TV pilot, Guns 'n Roses, Smashmouth (live concert) studio, Steadicam and handheld mode, Cindy Crawford/"Rooms to Go," Animal Planet "That's My Baby," 2003 Los Angeles Car Show, LAPD training films and LAPD video with Bobby Sherman (Thin Blue Line).
Steadicam Music Videos — Kings of Leon, Trace Adkins, Steel Panther, Toby Keith, Carry Underwood, SHeDAISY, Christina Aguilera "Come on Over", Dr. Dre/Snoop Dogg "Next Episode" (Paul Hunter, director), Kottonmouth Kings, Killing Heidi, Scarface (Dave Myers, director), Phil Collins, Michael Jackson, 3/T, Andy Griggs, Clint Black, Billy Myers, Abandoned Pools, Dutch and Spade, Dexter Freebish, Bone Thugs‑n‑ Harmony, Blind Melon, T‑Bone, Danzig, Unified Theory ,Rhet Miller,C‑Murder, Tift Merritt, Usher, Jerry Kilgore, Bucky Covington, Brian McKnight, and Sisqó "The Thong Song", Missy Elliott, Avant, Snoop Dogg "Nokia Communication" Sugar Bowl 2003 (Bryon Barber, director).
Professional Studio History
Foreman Universal Studios Grip Department — Camera Dolly Operator- Feature Films (entire principal photography) Gardens of Stone, Any Which Way You Can, Bronco Billy, Peggy Sue Got Married, Boulevard Nights, The Lords of Discipline, Mean Dog Blues, The Magic Balloon, Forced Vengence and Dreamscape.
Directors — Francis Ford Coppola, Clint Eastwood, Steven Spielberg, Frank Roddam, Peter Hyams, John Sinclair, Tony Scott, Ridley Scott, Micky Moore, Jim Arnett, Jim Manera, Bob Geraldi, Paul Dektor, Jim Sonzero, Paul Santana, Steven Tsuchida and Frank Sacramento, respectively.
Miscellaneous Feature Credits — Capricorn One and The Serial (entire principal photography).
Various Television (multiple episodes, seasons) — Baretta, Emergency, Adam 12, Kojak, Hec Ramsey, Marcus Welby M.D., Fantasy Island and The Rockford Files.
Video and Live Concerts — Celine Dion, Barbara Streisand, Bette Midler, Brian McKnight, Macy Grey, Smoky Robinson, Steve Windwood, Don Kirshner's Rock Concert. Toto's "Rosanna" and "Africa," Guns 'n Roses Live, Edgar Winter, Phil Collins, Beatlemania and U‑2's Rattle and Hum.
Movies of the Week — A Woman Named Moses, Wild Wild West Revisited, The Midnite Hour, Ernie Kovak's Between the Laughter, A Private Investagation, Return to Fantasy Island, Carpool, Eaglerock Rebels, The Killing of Randy Webster, A Family Upside Down, Seven Brides for Seven Brothers, Powder Puff, Platoon, The Legend of Walks Far Woman and The Jerico Mile.
Commercial And Walk & Talk Demo Reel Available.